Student sells used socks to fetishist for 150$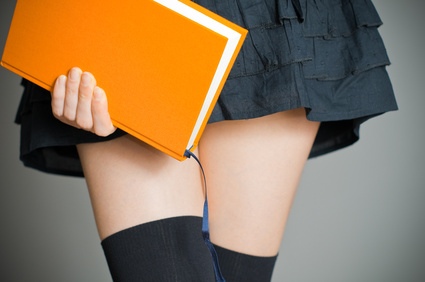 Fetish is not a dirty word, at least not for one American student who sells used socks to her online customers and fetishist clients for up to $150.00 currently.
Apparently this is one way to beat the economic climate today. This young lady has found a perfect niche market and enough customers to make it profitable, at least within the United States.

Who is this unique young entrepreneur and what is the motivation behind her online business methods? She is not just any average young lady, but a smart and busy student. Also she built her basic idea off similar websites she had seen from other young women, like herself. This was how the businesses began initially.

Even so, this does not begin to explain this young girl's story completely. The reader should get to know more about the lady behind the apparel, so here is what we can tell you. Her online name is Lily Haze, but she keeps her business private and on the down low. She loves that she can make great money online, but does prefer that it is kept conveniently away from the eyes of friends and family members.

Lily is very serious about making a living with her used socks and shoes. Her drive for success in school shows in her work ethics and due diligence. Her independent income stream has created very serious interest from the online community, but it is just a means to an end and a way to pay for her school tuition. It also allows her to live a better personal lifestyle, such as being able to afford organic foods with her close friends.

Lily is not alone in the global used clothing marketplace, by any means. She is actually part of a used underwear and garment underground business movement, one that caters to the unique interests for used socks, shoes, underwear, and sometimes pictures of the items being worn. These clients purchase their choice of items via her private website. Most items are lightly used, but range from slightly smelly to having been worn for several days individually. Items can range in price from $50 to $200, but it varies from customer to customer.

Lily, or Ms. Haze to her customers, has no personal interest in feet, fetish, or other types of fetishism. Her online website is a service and product promotional web page, but nothing more than that. She does not date or interact with customers, other than to ship out their online purchases and intimate items. She is providing a service and an outlet for her clients, but she is not part of any modern fetish groups. Her business is legitimate and modeled after other online women, who she stylized her own website after.

In fact, she is trying to expand herself and her online business globally. This means expanding her horizons and how she is marketing her socks, shoes, and other online items. Currently her customers are primarily within the United States, but she would love to see that market grow. Anything to keep up with her expenses for life, books, and school tuition fees. Each new semester is always right around the corner, so it is business as usual for Lily Haze this season.

She makes sure that all items are unique and designed to please the individual purchasing them. Her techniques to insure originality and odor include wearing socks for multiple days, going hiking in shoes, and actually smell testing them herself. This is why she mostly sells shoes and socks, for items like underwear the costs are generally higher in price. Still there is a market full of potential customers out there and Ms. Haze is an entrepreneur, so she caters to those interested parties, as best she can.

As an American college student, Lily Haze has begun a small business and will see how quickly it can grow in success. Her goals are simple, but her mind is smart enough to know that there are bigger potentials, if she wants to pursue them. It will be very interesting to see what the future holds, for this student who sells socks to fetishist clients online. Perhaps she is making use of skills that will lead to bigger things ahead of her, this remains to be seen.

Lily is eager to gain globally interested customers, especially from places like Australia. She is more than welcoming to such clients, as long as they are able to afford the additional shipping costs. This is generally more than most folks want to pay, but if the client has the cash, she has the goods. Her current income could use all the upgrades that generous customers have to offer, so contact Lily Haze with any of your personal interests and let her make your fetishes come true.
Ready to join Pantydeal for free?
There are dozens of features for members to enjoy after free registration. Stay anonymous: we never share data with third parties, and none of your personal details are visible to other users. An active and busy marketplace: with over 1,000,000 buyers and sellers already registered on Pantydeal, don't miss the chance to increase your income and join a welcoming community.