Sell Used Panties
Selling your used panties is one way to make easy money. The market is ripe with eager customers and the panty seller has plenty of room to set her price point. Some used panty collections have sold for $200 and up. To make fast money and eliminate the need to launder your underwear, sell your used panties one at a time or in a week's worth seven-day bundle. So just how do women sell their used panties? Take a look at some of the most popular ways to make a buck.
Sell Used Panties with Pantydeal

The art of selling used panties to total strangers requires some wisdom and discretion. If you would like to branch out your sales for some quick cash, try an the classifieds of pantydeal here to market your pantie products. Before you jump in there and hock your first bunch of panties, be sure to follow a few simple guidelines to keep your identity safe from a predator.
When advertising your panties online, be sure to use a post office box to receive your checks or money orders. If you plan to accept only online payments, your classified ad should refer your client to your website. If you feel the need to keep a safe distance from your used panties customers, place your online advertising far away from where you live. For example, a New York used pantie seller may wish to sell her wares via west coast online advertising to ensure a safe and sane transaction. Finally, it is good common sense to never disclose your name. This measure of security must be strictly followed and you should refrain from using transaction services, such as PayPal, that will identify your account holder's name.
Who Buys Women's Used Panties?
The sniffing used panties trend had small beginnings some twenty years ago in Japan, however men from all over the world are participating in the used pantie trade. Males and females have a different scent that only the opposite gender is keen to pick up on. Men who purchase used panties get an erotic thrill when they sniff the underwear, very much like some males enjoy sniffing women's shoes. The number of men who enjoy sniffing a woman's panties will never be known as fact. However, many talkative males have come forward and disclosed that they are naturally aroused by the scent of used women's underwear and they suspect that most other men will not admit it.
Both selling and buying used panties is perfectly legal as long as the transaction is fair and equitable. In most cases, the used pantie customer is not a social deviant or one to be judged by a lower standard. Your customers will include male professionals, blue collar workers, retired gentlemen and college students. Many men enjoy the scent of a woman who does not wear perfume or cover her natural aroma with fragrant hair products. The used panties for sale are merely an extension of this desire to take a whiff of the female scent.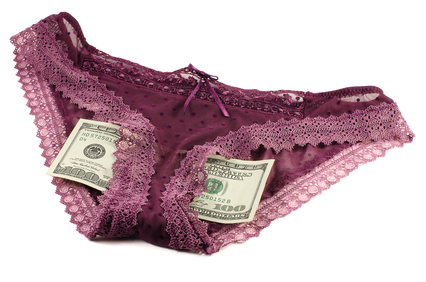 Getting Started Selling Used Panties For Easy Money
The first step is to get a pantydeal account. You can signup for free. To keep the scent fresh in your used underwear, be sure to store them in a plastic bag. The second step is to find a venue to promote your wares. If you elect to sell on popular auction sites, be aware that you may need to list your items in the adult categories. The third step is to set up your own website and enable it to accept credit cards. Finally, you need to market your products with online classified advertising.
Used Panties Overnight
To provide a quality experience for your pantie sniffing customer, you may opt to wear a clean pair of panties to bed and keep them on throughout the next day. Go for a brisk walk, a good workout at the gym and anything else you can do to leave increased body fluids, so try a few things until you find a prosperous market.
Shipping and Handling
Shipping your used panties should never include your home address. Instead, use the customer's address twice for both the sender and receiver sections of the package. If you wish to insure your package, you will have to disclose the contents of the shipment. Simply mark the package as "used clothing" and calculate the estimated value of the contents. Your customer should receive his folder or box with the panties tightly zipped inside of a clear plastic bag.
Sell any size of panties, any color and any texture. Your customer's are not always looking for fine French lingerie, so be sensitive to your client's needs and make your own creative pantie line.
Sell Used Panties In Vending Machines
Buying used panties from a vending machine was a brainstorm idea that came from Japan in the early 1990's. Although prices would vary from one vending machine to the next, a used pair of schoolgirl panties could fetch up to $50. The rules are tighter now in Japan, making it more difficult to buy schoolgirl panties. However, ladies used panties is still a hot commodity among Japanese men. The vending machine approach to buying used panties has caught on around the world. Some speculate that pantie machines will be available in bars, gyms and other marketable outlets across the United States. The novel concept allows the female donators to remain anonymous as they collect their cash and the vending machine clients may be discreet with their scented purchases. The machine way to sell used panties keeps the buyer and seller's name and credit card information separated, making it a win-win situation for both of them and the owner of the machines.
Sell Used Panties From Your Own Website
You may also like to market your used panties business by utilizing advertising space, photos on your site and adding a merchant credit card feature to the website. Test the market and discover what kind of panties will fetch the highest profit from lace panties to simple cotton underwear.
Persons who start-up an online store selling used panties will have to fill out tax returns and keep accurate sales records to maintain quality control. In addition to selling your own used panties, you may wish to expand your business by purchasing used panties at a wholesale price. Your price point to buy inventory will be determined by how many sales you receive at your retail price on your site. Just like any other business online, the used pantie trade requires paying attention to your customer's needs and responding to supply and demand.
Ready to join Pantydeal for free?
There are dozens of features that members will enjoy after a free registration. Stay anonymous - we never share data with other companies or third parties. Freedom of choice - over 1.000.000 buyers and sellers makes this marketplace to a great expierence and opportunity.