12 Days of Sexy Christmas Challenge
Are you looking for sexy Christmas ideas to make the festive period more exciting?
The Twelve Days of Christmas is a traditional English carol about gifts given from one lover to another. So the traditional Christian story goes, this period begins on Christmas day with the birth of Christ and ends with the arrival of the 3 wise men on January 6th.
We're here to give these 12 special days a sexy twist! For this festive challenge, we want you to complete a kinky activity on each of the 12 days of Christmas. If you do each one, you complete the challenge. Are you up for it?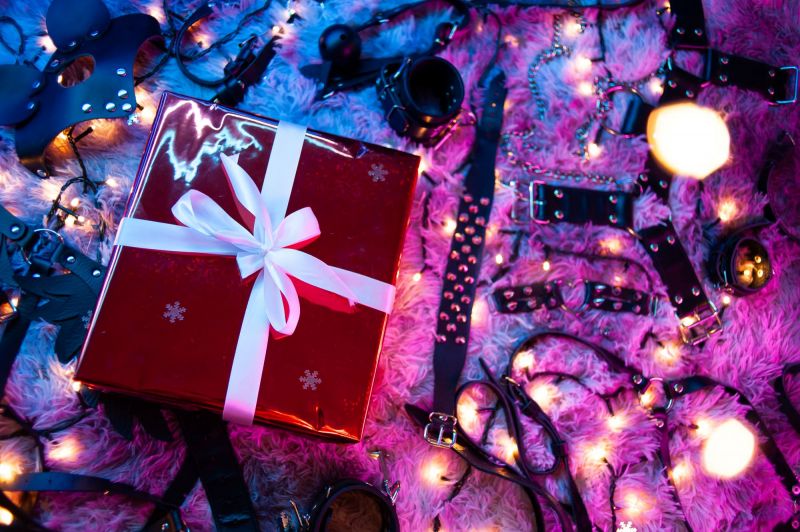 Whether or not you celebrate Christmas or are single or partnered up, these daily sexy Christmas ideas are a fun way to make the holiday period a time for pleasure and exploration.
And if you don't complete every one? Don't worry. This list can be used for sexy inspiration all year long.
Sexy Christmas Ideas - The 12 Days of Christmas Challenge
Day 1 - Send an erotic holiday card
This is one of the best Christmas sex ideas for crafty folk.
What better way to show a lover you care than with a homemade holiday card? Think about fun, creative ways you can make it sexy. Perhaps a sultry image on the front and a dirty promise inside?
Happy Holidays to my favorite person! This year you have one special gift: me. Ready to unwrap whenever you are. Love. xxx
Day 2 - Get/give a sensual massage
The holiday period is in full swing so it's time to take a step back and breathe. If you've got the skills, give your lover a fully immersive sensual massage session. If you want to make it festive, think about Christmas scented candles and decorations.
Learn how to master sensual massage in our guide.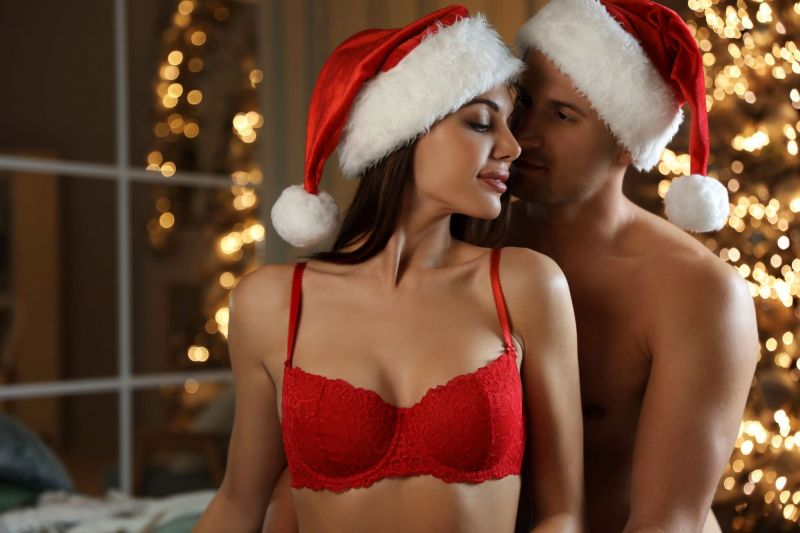 Day 3 - Make naughty Christmas cookies
Check our famous naughty festive cookies recipe and spend a fun afternoon making them with friends or a lover. Get inventive with shapes and decorations and give them as gifts.
Day 4 - Watch a festive erotic movie
Most people regularly watch porn, we know. How about taking the time to do something different this year? Invest in a high-quality erotic movie and watch it alone or with a partner. Make it part of a romantic night in, and try to watch the whole thing…
Make it festive by watching one of these less explicit but still sexy adult Christmas movies.
Day 5 - Go shopping for new lingerie or sexy outfits
This is a sexy Christmas idea you can do alone or with a partner. Buying new lingerie or kinky nighttime wear will make you feel good about yourself and inspire your sex life in a new direction.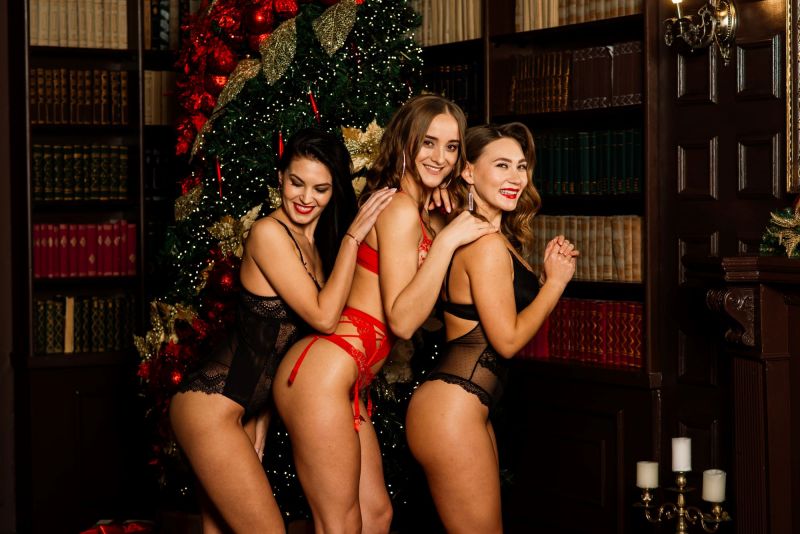 If you want to make it festive, try a sexy Santa outfit.
Day 6 - Take sensual festive photos
Got your new lingerie? Great, now it's time to show it off with sexy photos. It depends on how far you want to go. You could take quick shots with your phone or make it an event with a camera and make-over.
We recommend the latter!
Do whatever you want with your photos. Frame them to remind yourself how fabulous you are or send them to a lover for a holiday treat.
Day 7 - Have sex in kinky Christmas outfits, or go a step further with role-play
Do you have secret, Christmas-themed fantasies? You're not the only one. The holiday period is the perfect time to share those fantasies and try something new in the bedroom.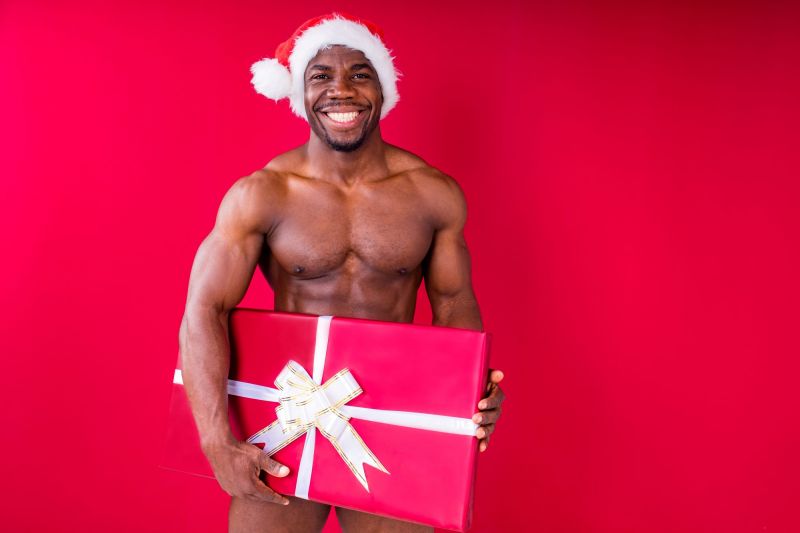 Throw on your kinky costumes and see where they take you. This is one of the best Christmas sex ideas for adventurous couples.
Day 8 - Buy a new sex toy
There are so many sex toys to choose from. Even toy experts haven't tried them all!
For this sexy Christmas idea, go shopping or have a browse online and pick something that sparks your interest. A new strap-on, anal toy, vibe, cock ring, fleshlight, pair of handcuffs… and of course, try out your new toy!
Day 9 - Give a stocking full of kinky gifts
Who says you can only give presents on Christmas day? Extend the fun by surprising your love or a friend with kinky stocking fillers.
Think flavored lube, sexy games, naughty shaped chocolate, massage oil, panties, condoms, a voucher for a night of fun…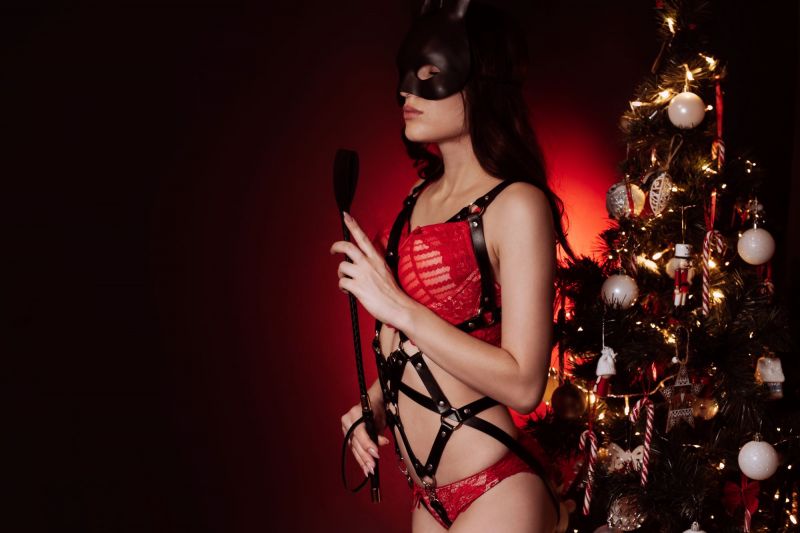 Day 10 - Try a new position
This is another one of the best Christmas sex ideas for couples who want to try new things. Use the time off work to get inventive in the bedroom. Is there a position you've been curious to try out? Use day 10 to stretch and move your body in the best way possible.
Go further by trying our favorite Christmas sex position: Santa's little helper. Have your partner sit on a chair, then sit on their lap and let them help you.
Day 11 - Explore festive food play
Food and sex are a winning combo - we know. The holiday season is a great time to combine food with sex because of all the delicious food you already have lying around.
Prepare your favorite holiday foods, and some aphrodisiacs for good measure, and eat them off each other's naked bodies… Or, of course, eat at the table and save the dirty stuff for after.
Day 12: Have sex somewhere new
Round off your 12 days of sexy Christmas ideas with sex in a brand new setting. This is a chance to push your boundaries and do something you've always fantasized about.
In the toilets at a Christmas party? A hotel room? In the car on a snowy roadside? Your childhood bedroom? A hot tub on holiday? Lucky you.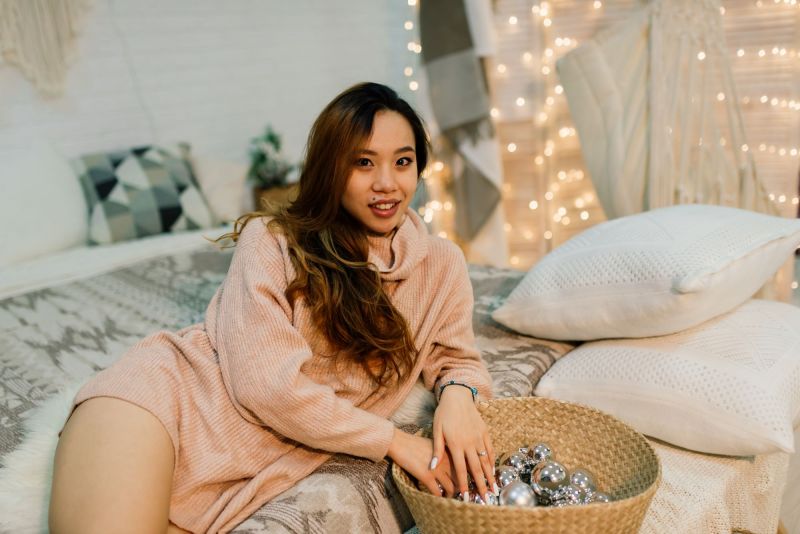 There you have it, our 12 days of sexy Christmas challenge. If you manage to complete it, you'll have a lot of things ticked off your sexy bucket list. Can you imagine a better start to the new year?