Your First Threesome: What to Expect and What Goes Down
According to a 2016 survey, nearly one-third of women are into the idea of threesomes. So why aren't one-third of us regularly having them? Because jumping into your first amateur threesome can feel like jumping off the side of a ship into the great unknown.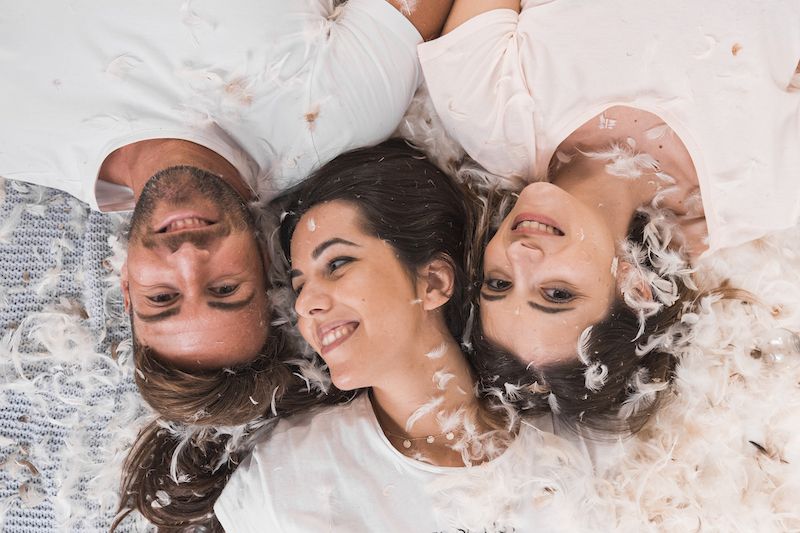 All those limbs! All those fluids! Surely there's too much to think about?
If these are your worries - we understand. Pleasuring just one person can take a lot of concentration, let alone two. But while threesomes can seem intimidating, they can also be exciting, satisfying and awesome experiences.
What is a threesome?
A threesome is three people having sex with each other at the same time. And it's not just about penis in vagina penetration. A threesome can involve any three people engaging in any kind of sexual act or erotic stimulation.
When most people imagine a threesome they might picture a couple who invite a "third", or a "unicorn", into their bedroom. This is often the case. But sometimes total strangers meet and decide to have a first-time threesome.
Sometimes it will be friends, casual lovers or just acquaintances. Some people have entire three-way relationships. In some situations, first-time threesomes are the result of too many drinks. But the best threesomes are the ones that are planned and thought out beforehand (but more on that later).
Why do people have threesomes?
It's exciting!
Ever heard of "cuckolding"? It's a fetish that involves a man getting pleasure out of watching another man have sex with his female partner. A part of the excitement of a couple's first threesome comes from seeing your partner being pleasured - even if it's not by you.
And sometimes a couple might feel like they just want to try something new in the bedroom if they have been together for a while and feel secure - of if they're just adventurous!
For a singleton, the idea of being the sexy addition to a couple's first threesome can be flattering, and a turn on.
I'm in a couple. How do I organize our first threesome?
If you're a couple and you've already talked about having your first-time threesome, then it's all about asking the right person, in the right way. Make sure it is someone you're both attracted to and someone you trust and feel comfortable with.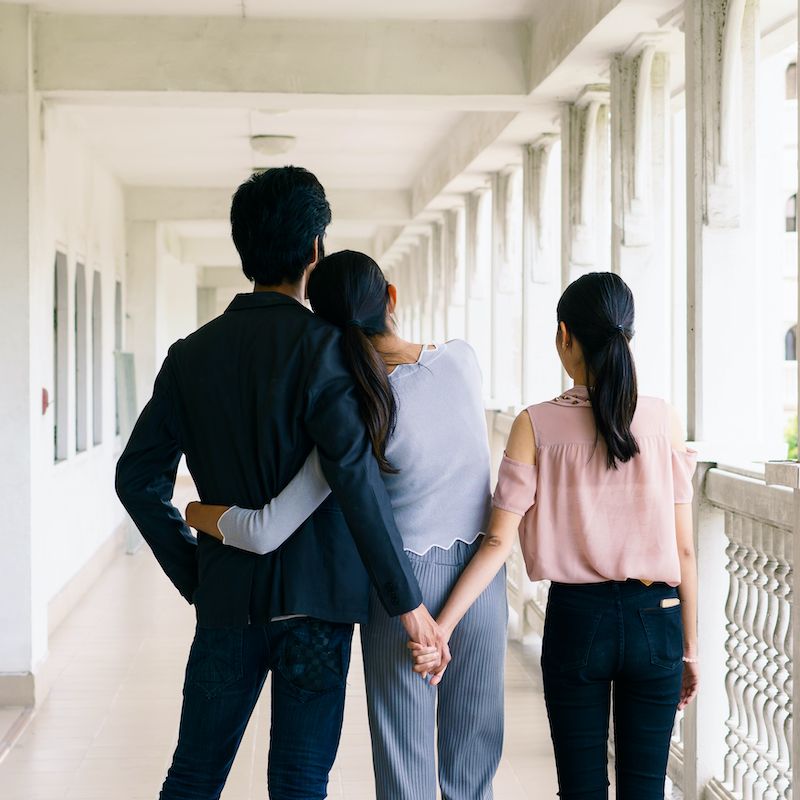 If you know someone who would definitely be interested, ask them straight out: "Hey, we've been thinking about this… We both find you very attractive... would you be interested in trying this with us?"
If you are both interested in someone whose sexual interests you're less sure about, then broach the subject more tentatively. Approach them and be friendly. Then be flirty, and see how they respond.
Introduce the subject of threesomes by talking about a movie, or another couple who have tried it, and test their interest in the idea. If they seem into it, and into you, ask them if they want to join you!
We would also not recommend involving best friends or ex-lovers in a couple's first threesome. Things can get messy.
I'm single. How do I organize my first threesome?
As you can probably gauge from the text above, if you put some "threesome vibes" out there, you might get approached by a couple looking for a first-time threesome.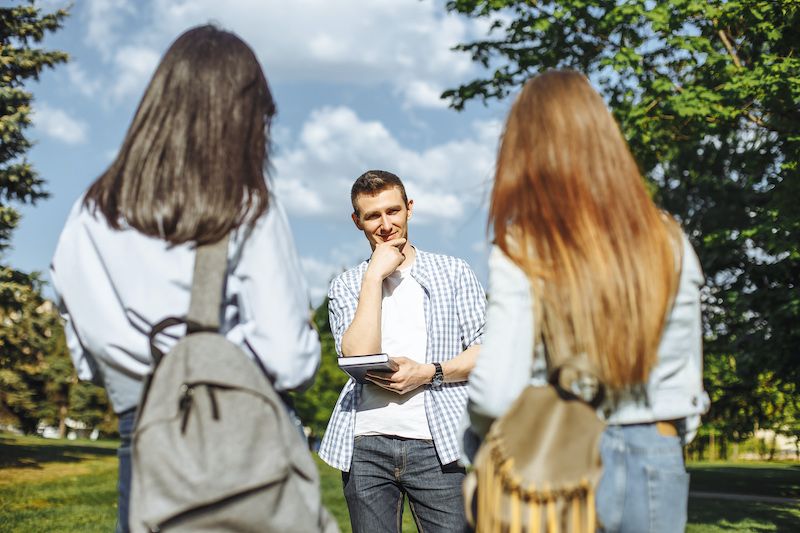 If not, the first step is to talk about this fantasy with friends and lovers, or go online and look into kinky communities in your area. It is likely someone around you has had experience with threesomes, is interested in partaking with you, or knows someone who would be.
When you think you've found the other two parties for your sexy trio, suggest all hanging out first - kind of like a date. You can figure out if you all connect and are attracted to each other, and you can go home in a way that feels less pre-planned.
Things to remember.
Threesomes are complex and it doesn't take much for someone's feelings to get hurt. There are a few things to remember before you dive in.
Stay (mostly) sober.
Consent is super important in first-time threesomes. While it is tempting to use a few too many drinks to calm your pre-threesome nerves, hold back. It's important for everyone involved to be aware of boundaries and able to make informed decisions about taking part. One drink can help all parties feel relaxed, but drunkenness doesn't make for a successful threesome.
Jealousy is a real thing.
With a trio, there is always the possibility of one person feeling left out. So it's crucial to make sure everyone is stimulated in some way and feels desired.
If you're a couple arranging your first-time threesome, communicate all your doubts beforehand. If you're a sexually jealous person, consider how seeing your partner having sex with someone else will make you feel, and how that might impact your relationship.
If you're a singleton joining a couple's first threesome, be aware of the relationship you're setting foot in. Be sure to give them both equal attention, and be hyper-aware of any tensions or insecure feelings that might come out during the threesome. Be prepared to back off a little if need be.
Some dynamics might work for you and some might not.
Threesomes can be made up of any three people. So think about what dynamic would turn you on the most. Two bisexual women with one straight/bisexual guy is a popular dynamic, as everyone will be into everyone else.
Whereas a trio of one woman with two straight men could be exhausting for the woman as the men's attention will be solely on her, as opposed to each other. Think about what gets you off during your solo sexy time.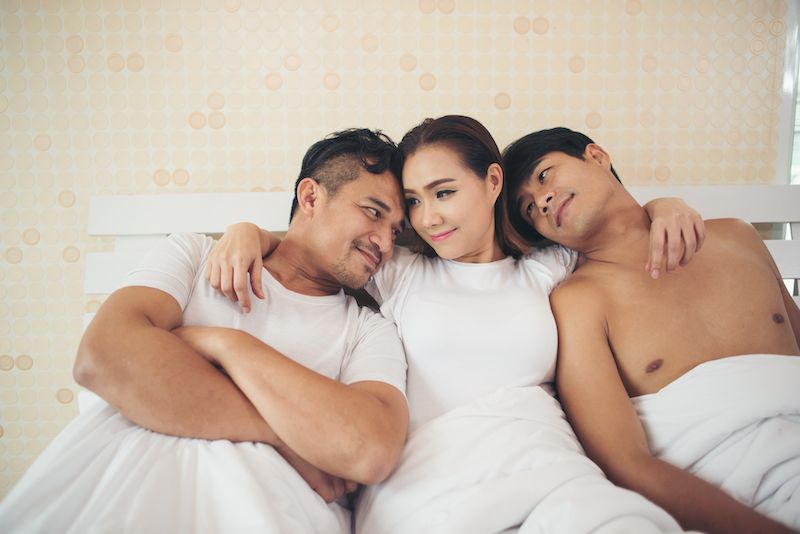 I'm having my first threesome. What do I do?
Don't panic. Yes, there will be a lot going on, but what with all the bodies and genitals around there will always be something to stimulate. You'll never be stuck for anything to do.
Generally, amateur threesomes go down in the way two-person sex does. Flirting, kissing, taking each other's clothes off… Follow your instincts. If someone else in the threesome has done it before, let them take the lead. If in doubt massages are a good way to heat things up.
The oilier the better, we say!
The important thing is that no one feels left out. If one person is going down on you, then guide the other person closer to you and go down on them, or stimulate them with your fingers. If the other two people are doing stuff to each other, join in!
Stroke a nipple, kiss a neck or use your tongue on her clit while she's being penetrated to give her the time of her life. As we said, there is always something to stimulate, so relax and go for it.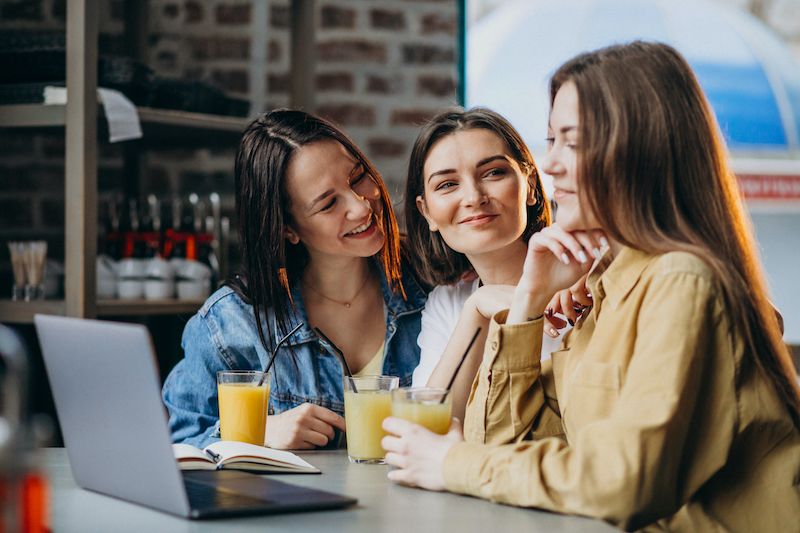 Aftercare.
Once your first threesome is over and all those body fluids are cleaned up, experienced threesome-ers recommend hanging out afterward. Sleep together, brunch, have a drink or just a chat. This will ease any awkwardness and make everyone leave feeling more positive. No one likes to feel like they've been nailed and bailed...
If you had a couple's first threesome (or just your first threesome with anyone you're emotionally attached to) it's good to communicate how you felt during the threesome, and any jealous or insecure thoughts you may have had afterward. You don't want these to linger unresolved.
If you've just had your first threesome and you can safely say it went very (very) well. Congratulations! Keep going!
Who says you have to stop at three?