21 Hot Places to Have Sex in Your Lifetime
If you're feeling like there's not much to look forward to at the moment, stop right there! This list of the best places to have sex, both inside the home and out, is sure to get you aroused and inspired.
Now's the perfect time to start planning the adventurous sex that's in your future. Pick your favorite sex spots and put them in the diary. Can you already cross a few conquests off this list? Good for you - you adventurous sex-haver!
Even if you think you're the Queen of adventurous sex, check out this list. There's always somewhere new to try.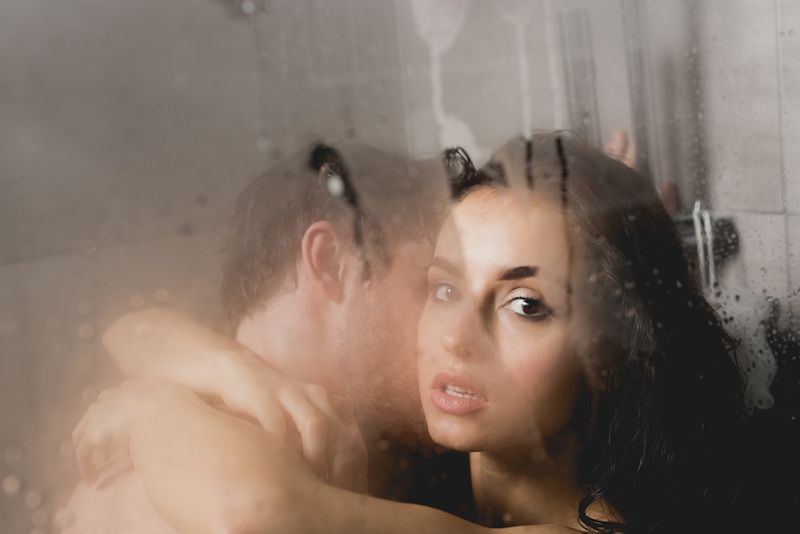 21 of the Best Ever Places to Have Sex
1. On the Couch
Yes, this is pretty basic, but lots of people haven't tried it! If you're wondering where to have sex around the house, this is a good shout. The next time your lover tries to move your make-out session to the bedroom, maneuver to the couch instead.
2. Against a wall
One of the best places to have sex that you can do literally anywhere? A wall.
Another one that seems basic but is often overlooked because the bed is two feet away. It might not be as comfy as a mattress, but the dirtiness of sex against a wall more than makes up for it.
3. In a nightclub
Whether it's the toilet or right in the open at your next play party, doing it near people will excite your exhibitionist side. And returning to the party with an orgasm glow and a naughty secret will make the night one to remember.
4. In the Car
It's a classic for a reason. Pullover on a quiet (or busy) street and get steamy. Something about being in a tight space like the back of a car makes sex more exciting.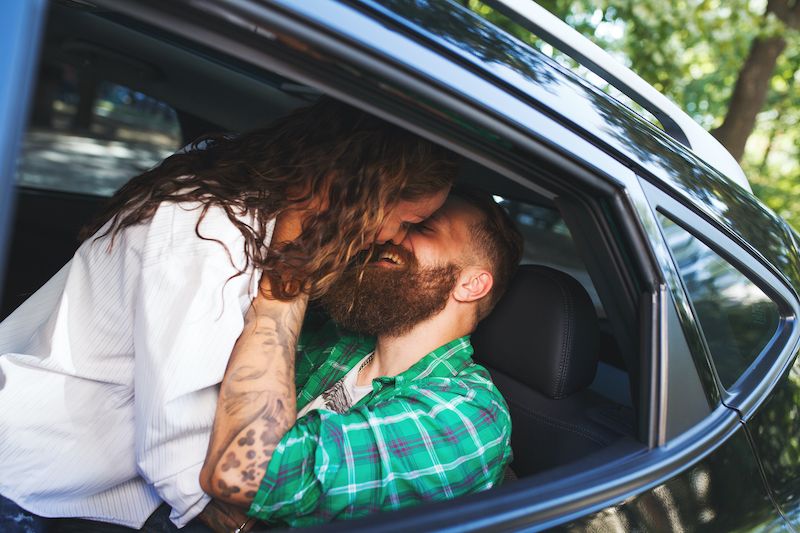 5. In the Office
Are you feeling rebellious? There's nothing wrong with a late-night quickie at the desk or a satisfying "toilet-break" right? Right?
6. On a balcony
Balcony sex is the perfect combination of privacy and exhibitionism. Plus, nothing compares to having the sun shine on your naked butt while you're going at it.
7. Halfway up the stairs
This is one of the best places to have sex that doesn't require you to leave the house. Stair-sex puts your bodies into weird positions. This can either lead to carpet burn or mind-blowing orgasms. It's worth the risk.
8. At your friend's house
Obviously, pick a friend who'll be okay with you doing this in/on/around their house. The new environment and risk of being caught makes it extra thrilling.
9. In the shower
Shower sex is another go-to for a reason. Start by 'innocently' cleaning each other and watch how the shower becomes your new favorite sex spot.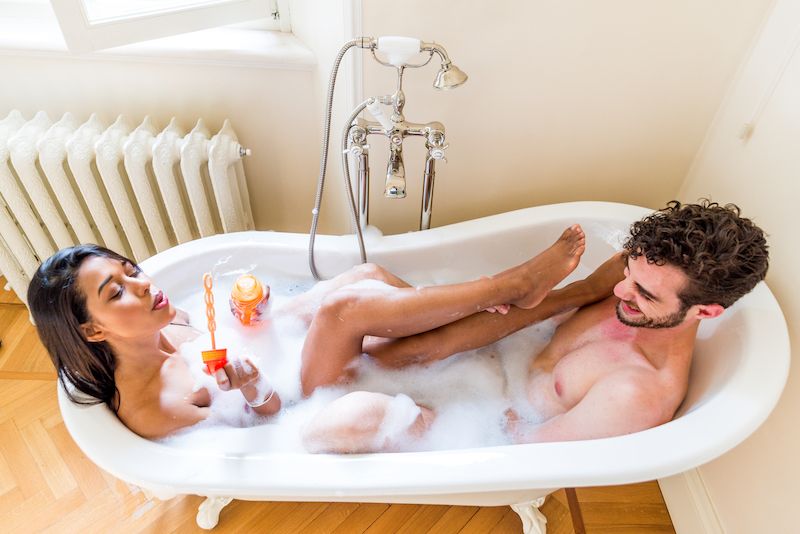 10. In the bath
We couldn't include the shower and ignore the bath.
Like shower sex, bath sex lets your rub each other's bodies and surround yourself with nice smelling oils and candles. Plus, squeezing your bodies into the bath and figuring out how to hit the right spots is a fun challenge.
This is one of the best places to have sex if you're feeling romantic.
11. In a sauna
Is there any sexier environment than a sauna? The heat, the wood, the lack of clothing… Where to have sex if you don't mind being sweatier than you ever have before? A sauna.
12. In an airplane toilet
Welcome to the mild high club. It's a pleasure to have you on board. This is one of the best places to have sex for people with a rebellious streak.
13. On top of a washing machine
Specifically, sat on top of a washing machine when it's being used. Why? It's like having sex on a giant vibrator. You're welcome.
14. In the kitchen
Up on the kitchen counter is one of our particular favorite spots. Plus, once the kitchen sex is over, you don't have to go far for a snack. Or you can grab an aphrodisiac and go again.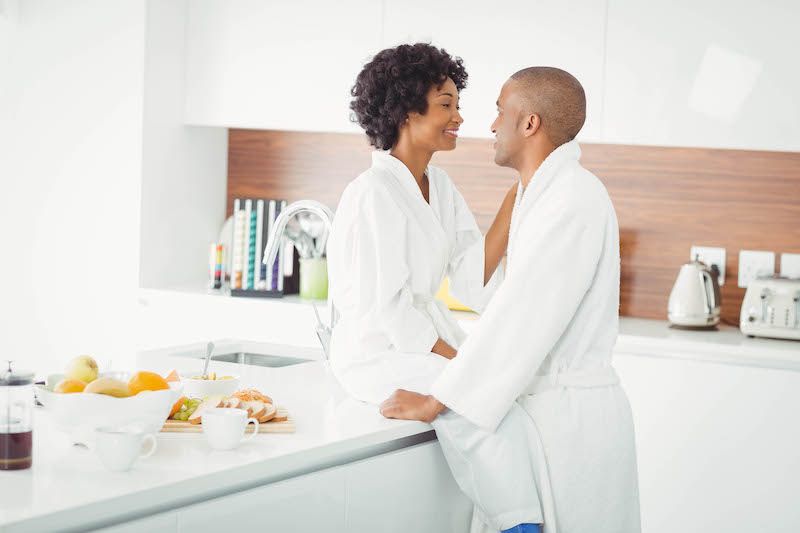 15. In front of a mirror
Having sex in front of mirrors is actually part of a fetish called Katoptronophilia. But you don't need to have this fetish to enjoy this. This is one of those places to have sex that once you know it, you know it.
Watching yourself have sex is unbelievably visually stimulating.
16. In a pool
Obviously, be aware of hygiene here. Pick your pool wisely. Penetration isn't necessary - fooling around is more than enough.
17. In the sea
Similar advice applies here: Look after your genitals! Feel free to have a different kind of sex in the sea. Heavy petting in your swimsuits, with the moonlight and ocean waves, is an experience you shouldn't miss.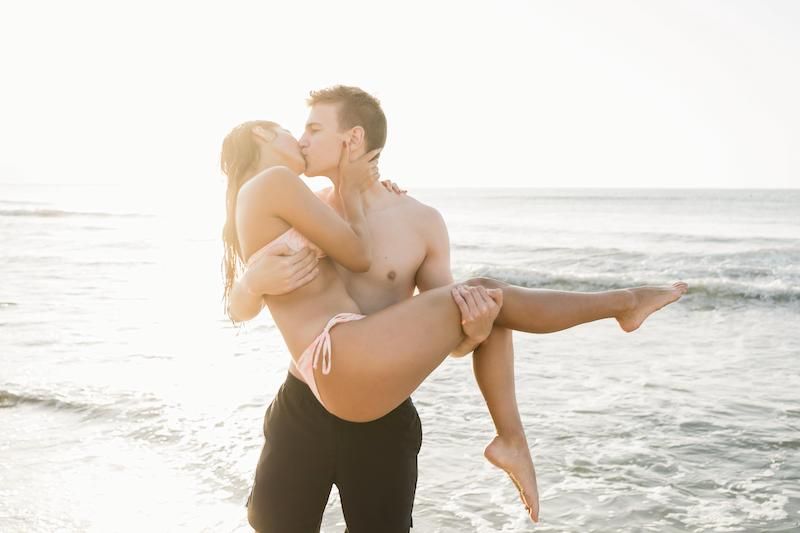 18. On the beach
Sex on the beach! Being surrounded by beautiful scenery when you're having sex is exciting and romantic. But please, please, be wary of sand. Make sure there are plenty of layers between your naked bodies and the ground.
19. In a hot tub
Another water-themed sex spot, but more luxurious! Hot tubs are sexy environments, so the ambiance will make for an unforgettable session. And don't forget to use those pressure jets to your advantage.
20. In a fancy hotel
This is where to have sex for a special occasion. Book a fancy hotel and act like movie stars. Comfy beds, champagne, eating strawberries off each other, not cleaning up after yourselves…
21. By a window
It doesn't have to be a special window. Just a window! This is another one for exhibitionists. The thrill of maybe being seen makes the experience spine-tingling.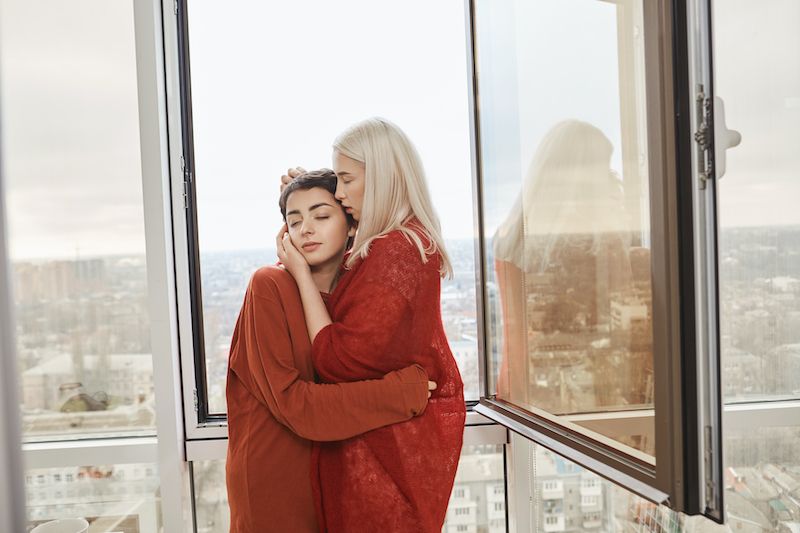 Did we miss any of your favorite places to have sex off our list? If we did, let us know! If we didn't, start making that sex bucket list and ticking them off. And if you get all 21? Consider yourself a sex-spot Guru.