Erotic Fiction - Christmas Special: The Unexpected Guest
A guest story by Ash Isaacs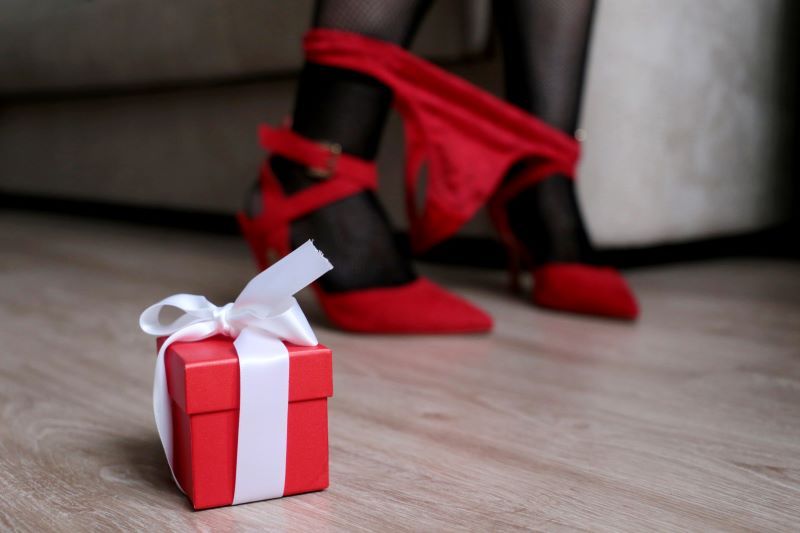 "That sounded like a good dream."
I woke up startled. And wet. It was a good dream. And definitely a good start to my Christmas day.
I turned to Ilan, who was smirking down at me.
"So... what happened? Is it wishful thinking to ask if I was there?"
It wasn't wishful thinking. He was in the dream, but he wasn't the only one. I turned, smiled, and locked my eyes with his.
"Oh, you were there. And so was…"
"...She."
"Who? Her?"
"Yes. Her. Ade."
"Wow. It really must have been a good dream."
He pursed his lips. Face flushed.
"So, seriously, what happened? Was it like the other night?"
I pulled myself up in bed, preparing to relive the encounter one more time.
"It was exactly like the other night. We were in the bar at the end of the High street, with Christmas lights twinkling all around us. She watched us with glistening brown eyes, then strode straight over as if she knew exactly what she wanted. She did. We slid into a taxi 20 minutes later. Quickly, her tongue found my nipple and your fingers found the inside of her panties."
"And then?"
"You know what happened then, Ilan."
"I know. But I want to hear you say it."
Never losing eye contact, his fingers lightly pulled my camisole to the side, revealing my breast and now hard nipple, and started playing with it.
"Well," I began, lightly stroking the coloring on my kneck, "we woke up with love bites, bruised asses, and..."
His fingers were cold and light. A shock of tingly pleasure traveled down my body.
"... a feeling that we needed to see this beautiful dominatrix again."
"As my head tilted back and my mouth fell open with the anticipation of pleasure, my phone buzzed. I reached my hand to the bedside table to flip it over.
"Check it later," Ilan said, as he cupped my jaw with his other hand and began slowly kissing my neck and collar bone.
"Wait. It's her!"
He froze, excited, one hand still cupping my breast.
"It's her? Ade? What did she say?"
We were like kids on Christmas morning. We hadn't heard from her since we'd said goodbye at the door two mornings ago. We'd thought about her a lot. Spoken about her, too, about how we wanted to see her again and ask what she thought about becoming a regular part of our sexual play.
Ilan and I frequently talked about the fluidity of our relationship and our sexualities. We'd had many lovers this year, separately and together, but Ade was different. She knew when to be rough and soft. She knew how to give and take. She could sense the desires of whoever she was with almost instantly.
She sensed our craving for sexual submission, and gave it to us.
I swiped open the message and read it aloud.
To my favorite kinky couple, Happy Christmas. I'm thinking of you from bed. Oh, what I'd do to you both if you were here. Until next time. Ade. X
After reading the message we looked up at each other, mouths twitching and eyes gleaming as her words filled us with desire for her, and for each other.
What would she do to us if we were there?
"We have to reply!" I exclaimed.
Ilan nodded as his hand resumed its place on my left breast. He put two fingers around my nipple and pinched, soft, then harder.
Holding my phone, I tentatively typed.
Ade, Happy Christmas to you too. We're also in bed, thinking of you. What would you do to us if you were here? We have plenty of ideas about what we'd like to do with you... X
I held the phone out to Ilan and he hit send. I felt my breath quicken and a familiar warmth grow between my legs.
I turned to Ilan and began kissing him passionately. His fingers massaged my nipple harder and harder. I let my right hand fall from his hair down to his boxers, where I felt how satisfyingly hard he was. I stroked, before gripping him more firmly and massaging him in the way I knew drove him wild.
A buzz.
I took my hand away from his boxers to check the latest message.
Mm… You get to choose. As I put two fingers into your panties to stroke your clit, and Ilan bites your nipples in that way you like, would you rather I tied your hands behind your back, or blindfolded you?
Have my hands tied.
Good.
Now it's your turn.
Once I'm naked on the bed with my hands tied, would you rather place your knees around my head and feel my tongue inside you, or stroke my lips before penetrating me, while Ilan kneels behind and does the same to you?
I want to feel your tongue inside me while I pull your hair and tell you what a bad girl you've been this year.
Mm… Am I on your naughty list?
You're both definitely on my naughty list.
How do we get off it?
You let me come over and spank you with my favorite leather flogger. How does that sound?
Perfect. Please... when can we see you?
Today?
I looked at Ilan, whose fingers were roaming around my ass, tantalizingly close to my wet spot, and raised my eyebrows.
"I mean, it's Christmas day and we don't have any plans… Why not?"
I picked up my phone to respond.
The sooner the better. Come today. How far away do you live?
Close.
How close?
A few minutes passed while we waited for her reply. I was straddling Ilan when the knock on the door came. He opened his eyes.
"Are we expecting someone?"
"No? I don't think so?"
I climbed off Ilan and went to grab my robe.
"One second!" I shouted to the stranger behind the door.
As I pulled my robe around me my phone buzzed. Ilan picked it up, read it then looked at me, biting his lip.
"Don't bother with the robe. I'm here to enjoy what's underneath."
We turned our heads toward the door. My robe fell to the ground and I headed across the room in nothing but my black thong. I took a breath, reached for the handle, and pulled open the door.
"Hey, neighbor."