Interview with Nikki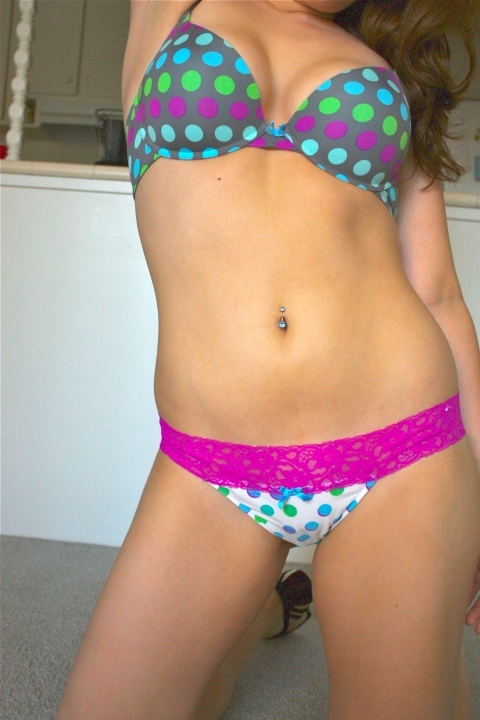 Interview with Nikki
1) What would you call your job yourself? Landry offerer? Panty saleswoman? Businesslady dealing with worn panties? Is there a term you're personally particularly fond of?

I normally don't have a title for it, but I guess if I had to call it something I would call myself a Panty Kitten.

2) For how long have you been working in this field? How did you find out about it in the first place? Tell me a little about your personal story and how you came to selling panties.

I have been selling my wet panties online through different sites for almost 2 years now. My boyfriend actually suggested it as he had heard of one of his friends girlfriends doing it to earn extra money on the side for recreational use. I looked into it for a little while and I realized what a great enterprise it was. I'm already a very sexual person, I love to pleasure myself more than the average girl, and I love to buy and wear sexy panties. I started selling on craigslist as I still do as I seem to attract the most buyers that way. After doing it for a while i enlisted my best friend to take high quality pictures of me to attract more buyers. I have now started making videos as well.

3) Do you consider the job your main source of income or a sideline? What did you work as before you came to it? What other jobs and sources of income do you currently have?

This is a source of income on the sideline. I have a regular job and I go to college as well. I see this as a fun and kinky way to earn extra money for me to go shopping, have some fun, see movies, etc. My main source of income right now is pet care and dog-walking, it isn't very time consuming but very rewarding and leaves me with lots of time to sell my panties online, take pictures, and make videos.

4) What criteria does a customer need to fulfill for you to consider him good?

They would have to be respectful, but a little flirty. They would definitely need to be observant, it is a pet peeve when they ask me questions I have already answered just to waste my time. It is also a turn off when they are too persistent about asking for things I am not comfortable with. They would be professional, respectful, flirty, grateful, etc for me to consider them a good customer.

5) Tell me something about your average customer. What walks of life does he come from, how old is he, is he single or in a relationship? How can we imagine him?

The average customer is hard to describe. I have met so many different men while selling my panties. Some older, some younger, some in relationships, some not. I never know who's going to be asking for my sexy scent next.

6) Tell me about your weirdest experience so far selling panties.

My weirdest experience was a request. One customer, after buying my panties, wanted to pay me to have sex with a friend while on my period, then have the guy cum on the panties after, and have it shipped to him. I love selling my naughty wet scent, not another mans cum! Haha

7) What about the people close to you, do they know about your job? If yes, what do they think of it and how did they react when they first found out? How did they actually find out about what you're doing?

Most of my close friends actually know about my panty selling fetish. I told them all at the same time, and surprisingly they thought it was awesome. They wanted to hear all about it and they were kind of excited about it. Since my boyfriend was the one who suggested it of course he knows, he encourages it and helps me take photos too. It benefits him a lot because I'm always wearing sexy panties around him, and he gets to watch my videos and picture sets for free. As far as my family, no one knows about me selling my used panties other than my younger sister, and she didn't really think much of it.

8) Did you ever fall in love with a customer or even find one of them attractive? Did any of them ever fall in love with you or show interest in you as a person?

I have never fallen in love with a customer, I am loyal to my boyfriend, but just because he can't share me doesn't mean I can't share my sexy, creamy panties with the world ;) I have to admit I HAVE found some of my customers attractive. I can't help it, I'm a girl and I love a big, hard bulge.

9) What's the biggest misconception about selling panties? What's the worst prejudice?

Most people if I bring up the idea of selling panties, think that it is slutty and trashy, and that the guys who have panty fetishes are weird, but most all of my customers are the most normal guys I have ever met. I have met a few in person and they have all been the sweetest, most chivalrous men I have ever met. Also, I see nothing wrong with selling my panties. If i'm going to wear sexy panties all the time and masturbate regularly then there is no reason I shouldn't share my scent with other men and make a profit.

10) How important is staying anonymous to you? How serious do you take this aspect of your job?

Staying anonymous is very important to me. Sometimes I do work with children, and I do have a reputation to uphold at my pet sitting business. I never sell nude/skimpy pictures/videos with my face in them. I take verification pics of my face with the customers name and date so they have proof I am real.

11) Imagine a good friend of yours was considering selling her worn panties, too. Would you encourage her to do so, or would you rather not see her give it a try? If so, why not? Or why would you want her to tread in your footsteps?
Actually, after telling my friends about my selling panties in my spare time, a few of them wanted to know a lot more and have become interested in selling there panties. I think it would be great, and honestly it would be super helpful because we could do all of our shopping together, take each others naughty photos and videos, and share contacts.
12) What tips would you give a lady who barely just began selling her worn panties?

I would tell her to have fun with it. I would tell her to be friendly, and aim to please but not get taken advantage of. I would advise that she gets a separate email for panty selling, join a few websites, and post a few ads. I would tell her to gather up all of her sexiest panties and take a few nice shots in some of her creamiest pairs. I would of course tell her to come to pantydeal because all of the girls here are so helpful and open armed, and there is great info and content on how to best sell your panties.

13) What do you enjoy most about selling worn panties, what makes fun to you and what has kept you doing the job until today?

What i enjoy about selling my panties is the rush. I get so hott knowing I am getting my panties soaked for another man who is going to enjoy them so much. My biggest turn on is turning men on. It is also not different from my daily life. Wear sexy panties, play with myself 2-3 times a day, have sex, repeat. Just add a sexy photos, a few trips to the post office and whala!

14) What don't you enjoy so much about the business? What are the downsides in your opinion?

The only downsides of the business I would have to say is time-wasters. Guys who are just trying to mess with you or try and get a few free photos.

15) So what about your free time? What are your hobbies, what are you passionate about? What do you spend your time with when you're not online selling panties?

In my free time I usually like to have sex or masturbate, then I usually go on a run with my dog for a half hour everyday. When I'm not doing that I usually play some video games (Bioshock, Assassins Creed, Silent Hill, Res Evil, Super smash Bros, etc), or watch TV (walking dead, WWE, 30 rock, true blood). I also love to learn about sex, and psychology, so you would probably catch me reading some of Freud's or Kinsey's theories on sex. All other time is spent pet sitting/dog walking, studying, writing essays, and attending lectures.

16) What are your goals and wishes for the future, where do you see yourself in the long run?

My goal for the future is to become a sex therapist. In the next 3 years I plan to get my BA in Psychology with a Human Sexuality minor. I see myself either working in the lab on human sexuality driven research projects, or actually providing therapy for people with paraphilia's and sexual dysfunctions

17) Is there anything you've always wanted to be asked? Any questions that really need to be asked but that I forgot so far?

One more question that should have been asked is what fetishes do us girls have, if any?

18) And what's the answer to these very important final questions? Any last words for us, anything important we didn't touch on so far?
My answer to the questions would be: I think i have two fetishes. My long time fetish is rough sex. I love lip biting, rough pounding, hair pulling, spanking, slapping, choking, etc. My second fetish would have to be panty fetish since I spent so much time around them and around men who have panty fetishes. I love having sex with panties on and now I love foreplay involving panties, I love to get them creamy and soaking wet from sex and masturbation.
Allrighty & Many Thanks for this very interesting Interview Nikki - Greets & Whala ;)
Ready to join Pantydeal for free?
There are dozens of features for members to enjoy after free registration. Stay anonymous: we never share data with third parties, and none of your personal details are visible to other users. An active and busy marketplace: with over 1,000,000 buyers and sellers already registered on Pantydeal, don't miss the chance to increase your income and join a welcoming community.