Interview with Kat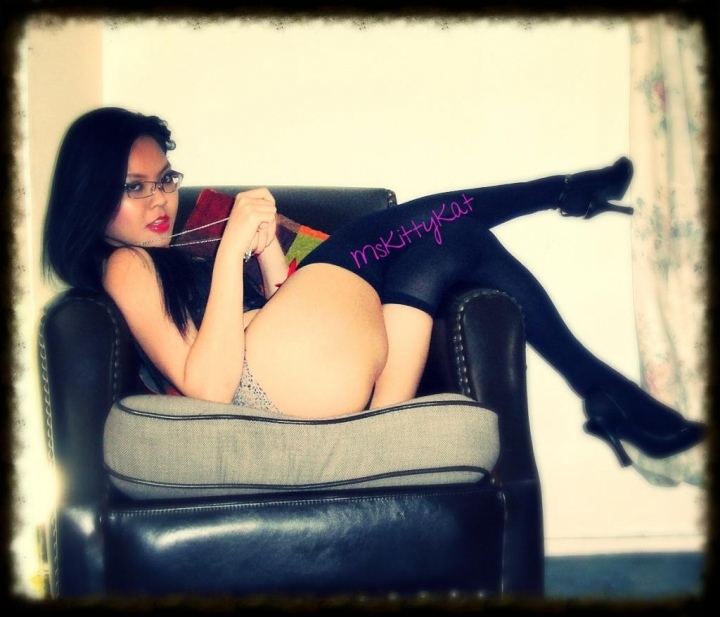 Interview with Kat
1) What would you call your job yourself? Landry offerer? Panty saleswoman? Businesslady dealing with worn panties? Is there a term you're personally particularly fond of?

I am a Panty saleswoman, I also sell other stuff like used lingerie, used bras, used socks , picture sets and sometimes short video clips.

2) For how long have you been working in this field? How did you find out about it in the first place? Tell me a little about your personal story and how you came to selling panties.
I started doing this since 2012 on and off. I found out about this because I have some requests from my webcam customers. They wanted to trade my panties for Amazon gift cards, or buy me panties off Amazon and offer extra fee for special request so that's how I started doing this.

3) Do you consider the job your main source of income or a sideline? What did you work as before you came to it? What other jobs and sources of income do you currently have?

This is just a side job for me. I still am a cam model and that is my main income for now

4) What criteria does a customer need to fulfill for you to consider him good?
he shouldn't be playing game, if he wants to request bunch of things but do not agree with my break-down pricing then I don't want to waste time dealing with him, since it takes time to bargaining as well as do the work, stuff isn't just ready to ship all the time.

5) Tell me something about your average customer. What walks of life does he come from, how old is he, is he single or in a relationship? How can we imagine him?
My average customer is usually an unhappy married guy, who has a problem with his small size penis or has needs with more wilder things in sex that his wife can't give it to him or he's too embarrassed to tell her. He is usually between 35-60 years old, sometimes older, and not always financially stable.

6) Tell me about your weirdest experience so far selling panties.
I actually haven't had a weirdest experience so far selling panties, mostly my customers just wanted my wet panties, no weird request yet, since I do not meet up to sell panties in person, only online.

7) What about the people close to you, do they know about your job? If yes, what do they think of it and how did they react when they first found out? How did they actually find out about what you're doing?
Some of my friends know what I do, half of them are also cam models so it sounds normal to them, even though they admitted it feel weird to send their own panties to some strangers. They also got requests from their webcam customers for used panties but they chose not to sell them.

8) Did you ever fall in love with a customer or even find one of them attractive? Did any of them ever fall in love with you or show interest in you as a person?
I never fall in love with a customer, I currently have a boyfriend, and a job is just a job. I have had customers said they fall in love with me on cam, but I just take it as they are lonely and they need some attention.

9) What's the biggest misconception about selling panties? What's the worst prejudice?
I have no comment about this

10) How important is staying anonymous to you? How serious do you take this aspect of your job?
It is somewhat important. I use PO Box address for everything when I ship stuff to customers. I also move around a lot.

11) Imagine a good friend of yours was considering selling her worn panties, too. Would you encourage her to do so, or would you rather not see her give it a try? If so, why not? Or why would you want her to tread in your footsteps?
If my friend wants to start selling her panties, I'd totally help her out. I always like to help my girlfriends out with anything they need, and if they found my job is interesting, I don't mind to give them any tips I have and help them step-by-step. It is fun to have a like-mind partner to do something fun and naughty.

12) What tips would you give a lady who barely just began selling her worn panties?
I'd help her take pictures of her panties that she'd like to sell, as well as help her create her first listing and help her to understand how the process work.

13) What do you enjoy most about selling worn panties, what makes fun to you and what has kept you doing the job until today?
Funny to say, I love to shop for panties but lazy to wash them, so this is kinda like a win-win, more money to buy more panties and save time on doing laundry, plus feeling sexy while I take pictures :)

14) What don't you enjoy so much about the business? What are the downsides in your opinion?

When a customers asked me bunch of questions to do certain things for my panties or a cam show and end up didn't want to do it anymore

15) So what about your free time? What are your hobbies, what are you passionate about? What do you spend your time with when you're not online selling panties?
I like to shop and cook on my free time, or just relax in bed and watch my favorite shows. Sometimes, my boyfriend and I go on road trips for fun.

16) What are your goals and wishes for the future, where do you see yourself in the long run?
I'm not 100% sure about this yet. Right now, I'm planning to go back to school and find out what I can do for my future.

17) Is there anything you've always wanted to be asked? Any questions that really need to be asked but that I forgot so far?
Not really.

18) And what's the answer to these very important final questions? Any last words for us, anything important we didn't touch on so far?

I think this is a good interview, I have no further comment or question.
Many thanks for this Interview and your Time MsKittyKat
Ready to join Pantydeal for free?
There are dozens of features for members to enjoy after free registration. Stay anonymous: we never share data with third parties, and none of your personal details are visible to other users. An active and busy marketplace: with over 1,000,000 buyers and sellers already registered on Pantydeal, don't miss the chance to increase your income and join a welcoming community.