Interview with Phyne Designs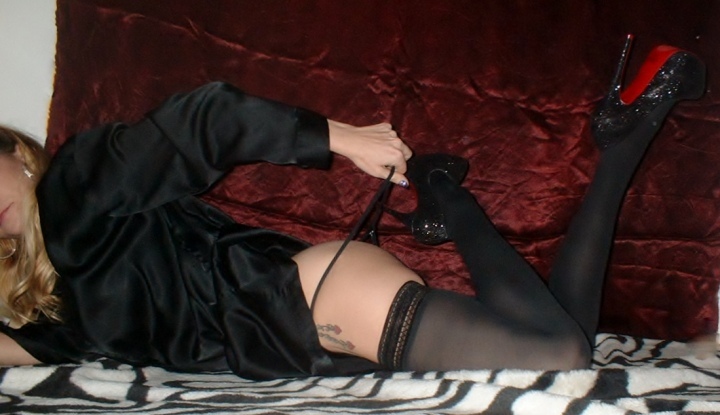 Interview with Phyne Designs
1) What would you call your job yourself? Landry offerer? Panty saleswoman? Businesslady dealing with worn panties? Is there a term you're personally particularly fond of?


♥ ♥ ♥ ♥ ♥ ♥ ♥ I'M A SELLER OF FETISH CLOTHING ♥ ♥ ♥ ♥ ♥ ♥ ♥


I sell a wide variety of clothing. I provide to requested services of worn or new clothing such as Shoes, Heels, Flats, FlipFlops, Sneakers, Slippers, Boots, Worn to Trashed Dancer Heels & Dancer Boots, Painted Footprints, Stockings, Pantyhose, Thigh Highs, Knee-Highs, & Footsies Stockings, Knee High Socks, Slouch Soucks, Cuff Socks, Furry-Soft Socks, School-gurl Ruffle Socks, 1pc Swimsuits, 2pc Tankinis, 2pc Bikinis, 3pc Designer Thong Bikinis with Sheer Wrap Skirt, Dancer Outfits New & Worn to Trashed, Garter Belts, 1pc Bodysuits, Dancer Gowns & Dresses Some With Matching Panty, Nighties, Bras New & Worn To Trashed, & Maaaany Styles of Panties From Worn To Trashed & Always The Way YOU Like Them!


2) For how long have you been working in this field? How did you find out about it in the first place? Tell me a little about your personal story and how you came to selling panties.


♥ ♥ ♥ ♥ ♥ ♥ ♥ MY SELLING HISTORY ♥ ♥ ♥ ♥ ♥ ♥ ♥


Well I've Always Been Kinky & Aware Of The Fetish World Being A Submissive & Attending Fetish Balls & Fetish Clubs & Being A Dancer. & I've been in the fetish biz about 3yrs now, on the cusp of 2014', & I started with well worn dancer shoes and went into socks & stockings then into bras and swimsuits and dancer clothes about 2 years ago & then about a year ago into the panty scene as I began receiving requests for them and have been loving every second of all the kinky requests since the beginning especially being a submissive type! & Actually about 2yrs ago my best friend Linda's husband suggested that I model my clothes I was selling on eBay & that got me started. Once I modeled my items for sale I started receiving many requests to wear, not wash, spray with my favorite perfume, do pics in and hold up signs with their names & even autograph clothing items for my customers. :-)


3) Do you consider the job your main source of income or a sideline? What did you work as before you came to it? What other jobs and sources of income do you currently have?


♥ ♥ ♥ ♥ ♥ ♥ ♥ GOOD PART OF MAIN INCOME ♥ ♥ ♥ ♥ ♥ ♥ ♥ ♥


Thankfully I Have Been Successful In This Fetish Field of Selling Used or New Items & it has become at least half of my income. & No Not the only thing I do. I also own a Store on eBay for about a year now n' have been a seller on eBay for over 11 years & I recently, about 5 months ago, began to Model Clothing as Toni Hartt


4) What criteria does a customer need to fulfill for you to consider him good?


♥ ♥ ♥ ♥ ♥ ♥ ♥ CUSTOMER CRITERIA FOR ME ♥ ♥ ♥ ♥ ♥ ♥ ♥


Well I would say please be up-front open and honest, you can always feel comfortable with me, as my mother raised me not to judge and we always said "to each their own", & I don't want to be judged, so I do not judge others. I do ask for politeness and respect as that is always what I give. Most customers are beyond good but it is "Good" when a customer knows what he or she wants and pays right away or at least continues communicates til the payment is complete. & appeciated more if communications actually continue til order is complete with item/s received and Star Ratings or Feedbacks are completed between us to actually finalize an order. Some customers may not feel Star Ratings or Feedbacks are important to themselves but they are not always realizing that it is Very Important for the seller to recieve those ratings/feedbacks. Most Customers Are Great In All Ways Though Thankfully!!! & Thank You All For That!!! :-)


5) Tell me something about your average customer. What walks of life does he come from, how old is he, is he single or in a relationship? How can we imagine him?


♥ ♥ ♥ ♥ ♥ ♥ ♥ MY LUVING CUSTOMERS ♥ ♥ ♥ ♥ ♥ ♥ ♥


Well the Privacy & Discreteness Of My Customers Always Comes First & Foremost! So on that note I will just say that I have had the pleasure to please men all over the world and of all walks of life! & Couln't Be More Thankful To All Of Them!!!

6) Tell me about your weirdest experience so far selling panties.


I would never say the word weird, I think its a degrading word for different, but prefer to say kinky, & I would not share the private details of my customers kinky requests no matter the level of kink it is always between us only! Guys Your Kinky Secrets Are Always Safe With Me!


7) What about the people close to you, do they know about your job? If yes, what do they think of it and how did they react when they first found out? How did they actually find out about what you're doing?


♥ ♥ ♥ ♥ ♥ ♥ ♥ MY FAMILY & FRIENDS ♥ ♥ ♥ ♥ ♥ ♥ ♥


Yes a few of my friends and family know that I do this and when I told them they just kinda said ok. lol. As I said above I don't judge and I don't surround myself with people that do either.


8) Did you ever fall in love with a customer or even find one of them attractive? Did any of them ever fall in love with you or show interest in you as a person?


♥ ♥ ♥ ♥ ♥ ♥ ♥ MY LUVING CUSTOMERS ♥ ♥ ♥ ♥ ♥ ♥ ♥


I have to be honest and say that I Luv ALL My Customers beacause without them I wouldn't be where I am today, I work hard at everything I do but they seem to Luv me harder & I Luv Them ALL 4 Everything They Do In Every Way For Me!!! LUV U ALL ALWAYS!!!


9) What's the biggest misconception about selling panties? What's the worst prejudice?


♥ ♥ ♥ ♥ ♥ ♥ ♥ MISCONCEPTIONS OF THIS BIZ ♥ ♥ ♥ ♥ ♥ ♥ ♥


Well theres two answers as there are two sides to this one, male / female :
1st answer / side male : I think for the guys the streotype is commonly freaks or weirdos or similar, but that is not the case, I know that its actually not so, men that buy these items are just your regular guy that you would never even think would have the fetish but I would say the majority of men or just about all of them have the fetish no matter who they are or where they come from. & there's nothing wrong with that to me!!! Thank You Guys!!! I Enjoy My Side In Providing All This Right Along With All Of You!!!


& 2nd answer / side female : I think for the gurls the sterotype is that we are sluts or dirty or similar in some way, but that is not the case either, I know that I'm none of those things and if a gurl is then its her personal choice and thsoe are just cruel words anyway! We live in 2000's not the the roaring 20's women are just as free to do what the please when they please as any one can without judgement! & actually ladies who do this and stick with it are strong and independent successful business women as I Am! We do have alot to handle dealing with this biz and deserve respect for the job we do and services we do provide, after all we are keeping the men happy! ;-)


10) How important is staying anonymous to you? How serious do you take this aspect of your job?


♥ ♥ ♥ ♥ ♥ ♥ ♥ MY PRIVACY ♥ ♥ ♥ ♥ ♥ ♥ ♥


As I said about my customers privacy and disreectness being my #1 priority, my privacy is just as important to me, and repectfully given by my customers too! ;-)


11) Imagine a good friend of yours was considering selling her worn panties, too. Would you encourage her to do so, or would you rather not see her give it a try? If so, why not? Or why would you want her to tread in your footsteps?


♥ ♥ ♥ ♥ ♥ ♥ ♥ MY FRIENDY ADVISE ♥ ♥ ♥ ♥ ♥ ♥ ♥


I would say Go For It!!! giggle I would say its great, lots of fun and can be very profitable and if they need any advise I'd be here for them. As My Best Friend LINDA Is Also On PD With Me & We Have Each Other To Go To With Questions Comfortably & Can Discuss Openly How Much Fun We Have Knowing We Aren't Going To Be Judged By The Other! ;-)
Please See MY Best Friend LINDA's Profile Page.


12) What tips would you give a lady who barely just began selling her worn panties?


♥ ♥ ♥ ♥ ♥ ♥ ♥ MY TIPS FOR NEWBIES ♥ ♥ ♥ ♥ ♥ ♥ ♥


First & Foremost : Get A PO Box, ur privacy is sacred!!!


Second : Do Not put up with customers that are not nice or who are trying to get something for nothing and want to waste your time and not buy! Ask them nicely within the first few nessages to see what their intentions are if they aren't right up-front to purchase and easily say what they want from you, then move on to the next customer!
& Third : HAVE FUN, Be Social, Always Be As Nice & As Accomidating As You Can Be & Honest When U Can't Accomidate! & Just Enjoy What You Do Always or Don't Do It, Remember You Can Always Say No Thank You! But Most Importantly Have Fun!

13) What do you enjoy most about selling worn panties, what makes fun to you and what has kept you doing the job until today?

♥ ♥ ♥ ♥ ♥ ♥ ♥ MY ENJOYMENT IN THIS BIZ ♥ ♥ ♥ ♥ ♥ ♥ ♥


I Luv The Response! All The Luv My Customers Show Is Priceless!!! I Luv The Sexxxy Clothes!, giggle ususaly what lil' off it there is. & I Luv running around in my panties n' bikinis or sexxxy lingerie n' heels and always being sexxxy! Also being that I'm a submissive I get off on others pleasure and get wet just at the idea of my customers getting off in any way over me! I also Luv when my customers send pics or vids of their hard cocks and cumshots with or without my items! Pretty much I Luv It ALL, so this is the perfect job for me!


14) What don't you enjoy so much about the business? What are the downsides in your opinion?


♥ ♥ ♥ ♥ ♥ ♥ ♥ DOWNSIDE OF THIS BIZ ♥ ♥ ♥ ♥ ♥ ♥ ♥


I would say the downside is an obvious one, when a customer doesn't want to pay. As well as the horrible sterotypes, which I'm hopeing are fading as it seems to be that the panty fetish is becoming alot more known and growing in numbers rapidly and with more and more people openly wanting to buy or sell these fetish worn clothing items. So let's just hope with time and awareness the predujucy will lessen also.


15) So what about your free time? What are your hobbies, what are you passionate about? What do you spend your time with when you're not online selling panties?


♥ ♥ ♥ ♥ ♥ ♥ ♥ MY FREE TIME ♥ ♥ ♥ ♥ ♥ ♥ ♥


In My Free Time I Luv Swimming, Singing, Hiking, Dancing, Roller Skating, Horse Back Riding, Weight Lifting & Exercising, Pole Dancing, Wearing Sexxxy Lil' Clothing & High Heels! + Movies, Dinners, Romance & Travel & The Phyner Things In Life! ;-)

16) What are your goals and wishes for the future, where do you see yourself in the long run?


♥ ♥ ♥ ♥ ♥ ♥ ♥ MY FUTURE ♥ ♥ ♥ ♥ ♥ ♥ ♥


In My Future I Plan To SELL YOU LOTS OF PANTIES & SEXXXY FETISH ITEMS!!! Please Messsage Me Now For Yours!!! WET & WAITING 4 U!!! Luv Always, Phyne ;-)


17) Is there anything you've always wanted to be asked? Any questions that really need to be asked but that I forgot so far?

♥ ♥ ♥ ♥ ♥ ♥ ♥ QUESTIONS ♥ ♥ ♥ ♥ ♥ ♥ ♥


I have been asked alot of different questions through my years doing this work, some a lil suprising, but I always answer truthfully, honestly and to the best of my abilities. I never give my customers a run-around and if I cannot satisfy a request I'm very quick to make that fact known. I always want customers to know they can ask me anything and to please never feel to shy or uncomfortable with me. You are in great hands or I should say panties with me! giggle. I LOVE CUSTOMER REQUESTS OR QUESTIONS SO PLEASE KEEP THEM COMING & I'LL KEEP YOU CUMMMING BACK FOR MORE AND MORE ALWAYS!!! xoxoxoxoxoxo ;-)


18) And what's the answer to these very important final questions? Any last words for us, anything important we didn't touch on so far?


♥ ♥ ♥ ♥ ♥ ♥ ♥ MY LAST FEW WORDS ♥ ♥ ♥ ♥ ♥ ♥ ♥
♥ THANK YOU TO ALL MY LUVING & FUTURE CUSTOMERS! ♥
Ready to join Pantydeal for free?
There are dozens of features for members to enjoy after free registration. Stay anonymous: we never share data with third parties, and none of your personal details are visible to other users. An active and busy marketplace: with over 1,000,000 buyers and sellers already registered on Pantydeal, don't miss the chance to increase your income and join a welcoming community.