Gangbang - Group Sex 2.0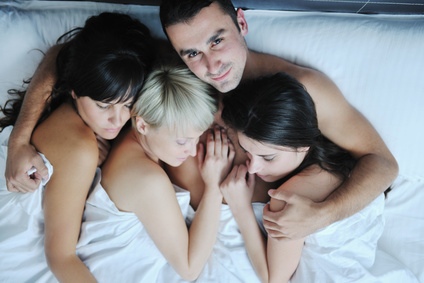 Learn about the evolution of sex between numerous people.
The term Gangbang describes in principle nothing else than group sex, a sexual practice involving more than two individuals. Three persons having sex with each other is called colloquially a "threesome" or, more rarely, a triplet. Group sex is often practiced as a partner exchange between two or more couples. A special form of group sex is the Gangbang, in which active participants outnumber the passive-receptive participants by far. Gangbang originally referred to a group rape, but also the criminal lifestyle of youth gangs in the United States.
In addition to Swinger clubs such venues are held for example at motorway parking areas or other public places, mostly at night. In contrast to this rather anonymous variant found in the recent past, Gangbangs are more often held in a private setting, that is, in our living rooms. The Internet has contributed its part to spreading this type of trend, as you quickly and easily arrange to meet here. Usually Gangbangs and group sex are emotionally distant expirences. In general, no friendships develop, but one-night stands are preferred and the acquaintances between Gangbang partners are more volatile. Couples who want to try group sex should be aware of, inter alia, a potential threat to their relationship by jealousy or emotional reorientation. For participants aware of that, sex with another person or persons can be quite an asset. Practicing Gangbang with no protection also carries the risk of infection with sexually transmitted diseases such as AIDS. Here, therefore, particular caution is required.
Join Pantydeal for Free
There are dozens of features for members to enjoy after free registration. Stay anonymous: we never share data with third parties, and none of your personal details are visible to other users. An active and busy marketplace: with over 1,000,000 buyers and sellers already registered on Pantydeal, don't miss the chance to join an exciting community and increase your income.